One moment, please. We're verifying the availability of your trip.
Did you know?
Dénia - Formentera:
Formentera from 59€ one-day return!
You still have time to enjoy the sun, friends and beach in Formentera!
Get away now on the Dénia - Formentera fast ferry at the weekends from 59€ por persona, day return. 
Get on board our Ramon Llull ferry at 9am and come back at 9pm the same day. You will have 10 hours to enjoy the incredible beaches and crystal-clear water that the island has waiting for you.
  Stay connected with Formentera all year!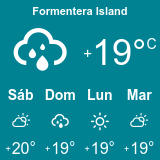 And if you want to discover and make the most of your stay in Formentera, here are a couple of guides, including the Formentera Traveller guide that we have made in collaboration with Condé Nast and our interactive Welbook guide:
TRAVEL SAFELY
We remind you that at Baleària, we are working hard to be your safest option and are on our way to being the first shipping line worldwide to obtain the Global Safe Site Covid-19 label at its highest level (Excellence) issued by Bureau Veritas. Learn more about this certification here.
Don't wait. Make your Dénia - Formentera booking now. Because a summer without Formentera is no summer at all.
CONDITIONS
Price calculated based on a round-trip in October.

Booking price subject to availability and occupancy rate.

Limited availability.

Offer may not be combined with other Baleària offers or promotions.