Lenght
186 m
Beam
25 m
Speed
25 nudos
Passengers
880
Vehicles
608
Eco-efficient shipping
This is a brand new, natural gas-powered smart shipthat joined the fleet in 2019. The sister of the 'Hypatia of Alexandria', it features state-of-the-art technical innovations designed for the customer. With its name, the company pays tribute to the scientist Marie Curie, thereby underlining its commitment to one of the sustainable development goals: equality and female empowerment.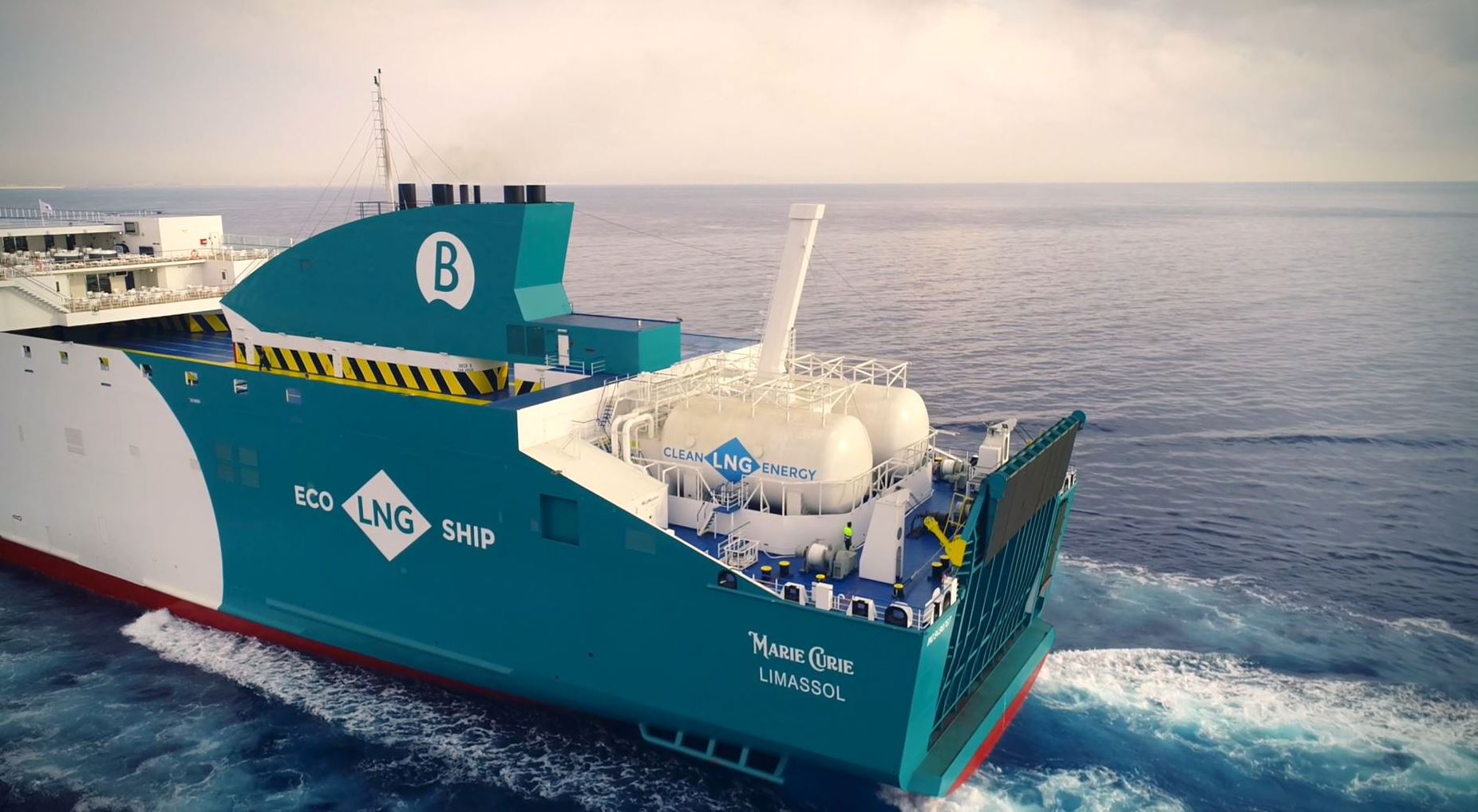 Lounge seat
Standard accommodation consisting of reclining upholstered armchairs.
Superior lounge seat
Ergonomic armchairs upholstered in black, padded, fully reclining and with footrests for greater comfort. These are located in quieter areas to offer a more comfortable crossing.
Cabin
Cabins with 2 or 4 beds, with a bathroom, shower and washbasin, with power sockets, a TV, bed linen and wardrobes. They are for the private use of the booking party.
The aim of Balèaria's smart ship is to significantly improve the on-board experience for customers. These new services are designed to make the journey easier before boarding and to enhance your experience throughout the crossing. Accessing the ship or your accommodation with your phone, enjoying digital content on demand or being able to talk via WhatsApp are some of the improvements introduced by this new technology
QR Access
You can access the vessel and the accommodation you have booked using a QR code downloaded onto your mobile phone. This means that, both to board and to get into your cabin, you do not need a printed ticket. You simply show the code on your phone.
Internet
The 'Marie Curie' has wide-ranging connectivity through the vessel's WiFi signal. You can access this network by purchasing vouchers that allow you to stay connected throughout the voyage.
Whatsapp
On this ship, you can send and receive text messages via the Whatsapp app while travelling, even at sea where there is no mobile signal.
Cinema and TV
During the crossing on this ferry you will have access to Baleària's digital entertainment platform, which features a large selection of films, series, books, newspapers and magazines. You can access this by connecting to abordo.balearia.com through your smart phone, tablet or computer.
Video surveillance of pets
The 'Marie Curie' lets you keep an eye on your pet's behaviour from your own mobile phone, thanks to the video surveillance system installed in the pet area.
Smart TV
This smart ship has Smart TVs in the cabins, from which you can access all the content on the digital entertainment platform. So, while you travel, you can still watch your favourite series or discover new films.
Kiosks
In the self-service restaurant, you can use the touch-screen kiosks to order your food and drink. You can also pay directly with your credit card and receive a ticket to pick up your meal.
Digital signs
This ship has digital signs installed in all the holds and other spaces. These announce safety measures as well as showing information from the company, including news and weather information.
Cafeteria
The 'Marie Curie' has a self-service restaurant and two indoor bar-cafeterias that run all year round. In high season there is also an à la carte restaurant and an outdoor bar-cafeteria in the terrace area and a barbeque. The restaurants and cafes offer a variety of food and drink menus.
Gift shop
This ship has a shop with a selection of gift items, cosmetics, books, newspapers and gourmet products typical of the area where the ferry operates. If you're a Club Baleària member, you'll receive a 10% discount on all your purchases.
PRM
The 'Marie Curie' has lifts and escalators between the different decks to facilitate access to the passenger areas. It also has toilets, adapted seats and cabins for people with reduced mobility as well as safety anchors for wheelchairs.
Family service
This ship has a children's area where the youngest members of the family can enjoy a fun crossing.
Terrace
The ship has a large terrace with two jacuzzis, chairs and tables so that you can enjoy the crossing in the open air.
Calm houses
The space provided for pets on this ship has different sized air-conditioned calm houses so that your pet feels safe at all times. It also has a walking area, a dog park and a video surveillance system so you can keep an eye on your pet's behaviour from your mobile phone.
Pet-friendly cabin
There are 16 pet-friendly cabins. The adapted floors in these cabins are vinyl, and a special cleaning protocol ensures maximum hygiene. In addition, if booked, customers can ask the crew for a drinking fountain/feeder and a platform with a puppy pad.
Do you want to change the departure date?