Lenght
63 m
Beam
16 m
Speed
32 nudos
People
546
Vehicles
122
El primer rápido entre Eivissa y Formentera que pudo llevar coches
El nombre elegido para bautizar al buque NIxe, construido en 2004 en Singapur, constituye un homenaje a la figura del viajero personalizada en el Archiduque Luis Salvador de Austria, que a finales del siglo XIX recorrió las Baleares a bordo de su yate Nixe, experiencia que le sirvió para escribir Die Balearen. La palabra alemana nixe significa ondina, el equivalente en la tradición germánica a nuestras sirenas.
Este fast ferry, que habitualmente cubre rutas interinsualres, fue el primer rápido entre Eivissa y Formentera que pudo llevar coches.
Lounge seat
Butacas estándares con reposacabezas. También hay opción de sentarse en los bancos de la terraza del buque.
Cafetería
Dispone de una cafetería con variedad de bebidas y snacks.
PMR
Este fast ferry dispone de baños y butacas adaptados para las personas con movilidad reducida así como anclajes de seguridad para sillas de ruedas.
Mascotas a bordo
Baleària is firmly committed to travelling with pets. All Baleària ships offer a range of special services for customers journeying with their four-legged friends: calming kennels, specially prepared spaces, cabins where pets are allowed, areas for walkies, toilet facilities, etc. As well as all the accommodation available on each ship, passengers who prefer can take their pets in a carry case.
Internet
This Baleària ship offers extensive connectivity thanks to the on-board Wi-Fi signal, with access to the network available by purchasing vouchers, allowing you to stay connected throughout your trip.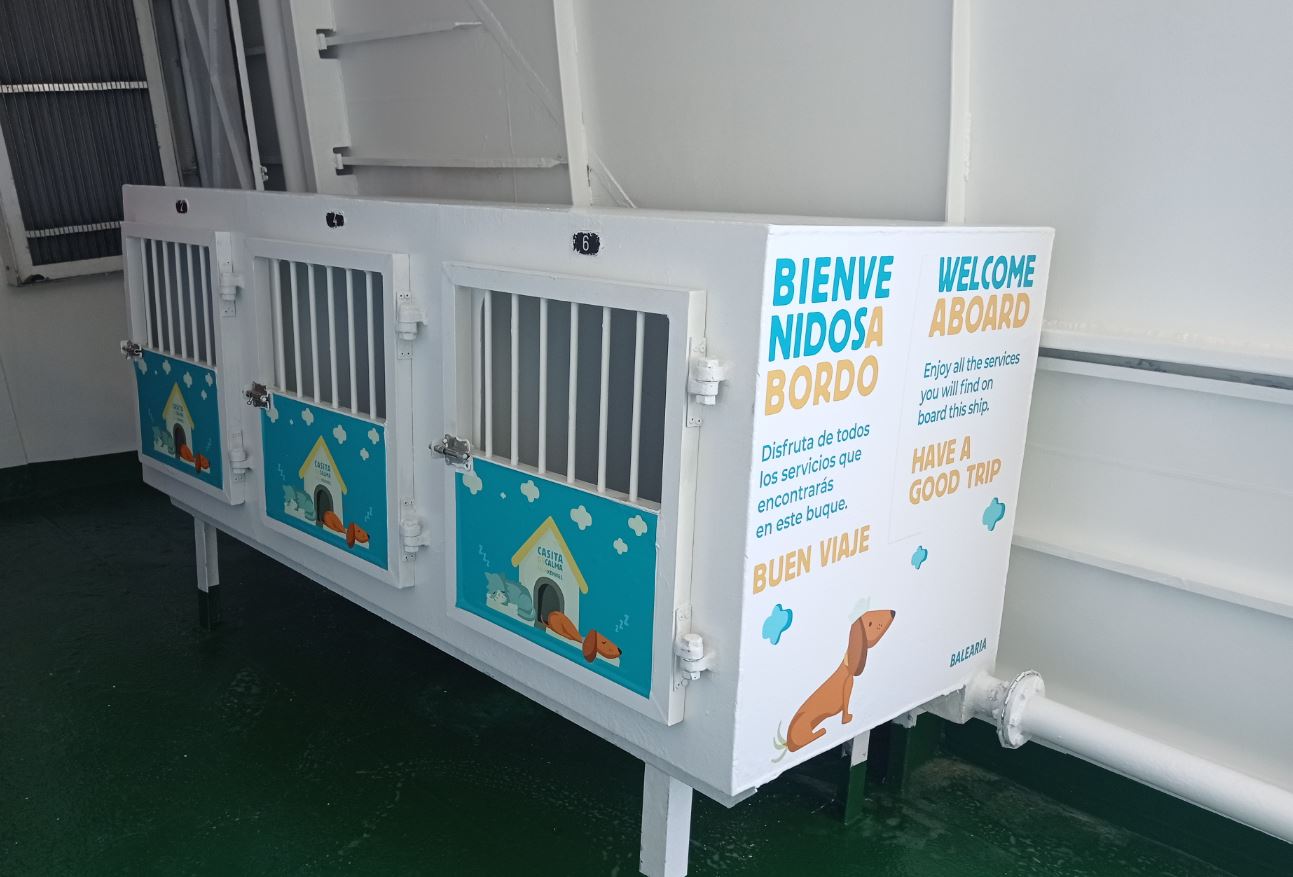 Casitas de Calma
Cuenta con jaulas de diferentes tamaños ubicadas en una de las cubiertas del buque.
Do you want to change the departure date?