Lenght
63 m
Beam
16 m
Speed
32 nudos
Passengers
546
Vehicles
122
The first rapid between Eivissa and Formentera that could carry cars
The name chosen to baptize the ship NIxe, built in 2004 in Singapore, is a tribute to the figure of the personalized traveler in Archduke Luis Salvador of Austria, who at the end of the 19th century toured the Balearic Islands aboard his yacht Nixe, an experience that it served him to write Die Balearen. The German word nixe means undine, the equivalent in Germanic tradition to our mermaids.
This fast ferry, which usually covers interinsual routes, was the first fast between Eivissa and Formentera that could carry cars.
Lounge seat
Standard seats with headrest. There is also the option of sitting on the benches on the deck of the ship.
The aim of Balèaria's smart ship is to significantly improve the on-board experience for customers. These new services are designed to make the journey easier before boarding and to enhance your experience throughout the crossing. Accessing the ship or your accommodation with your phone, enjoying digital content on demand or being able to talk via WhatsApp are some of the improvements introduced by this new technology
Coffee shop
It has a cafeteria with a variety of drinks and snacks.
PRM
This fast ferry has bathrooms and seats adapted for people with reduced mobility, safety anchors for wheelchairs and access to the passenger area through the platform.
Pets on board
Baleària is firmly committed to travelling with pets. All Baleària ships offer a range of special services for customers journeying with their four-legged friends: calming kennels, specially prepared spaces, cabins where pets are allowed, areas for walkies, toilet facilities, etc. As well as all the accommodation available on each ship, passengers who prefer can take their pets in a carry case.
Internet
This Baleària ship offers extensive connectivity thanks to the on-board Wi-Fi signal, with access to the network available by purchasing vouchers, allowing you to stay connected throughout your trip.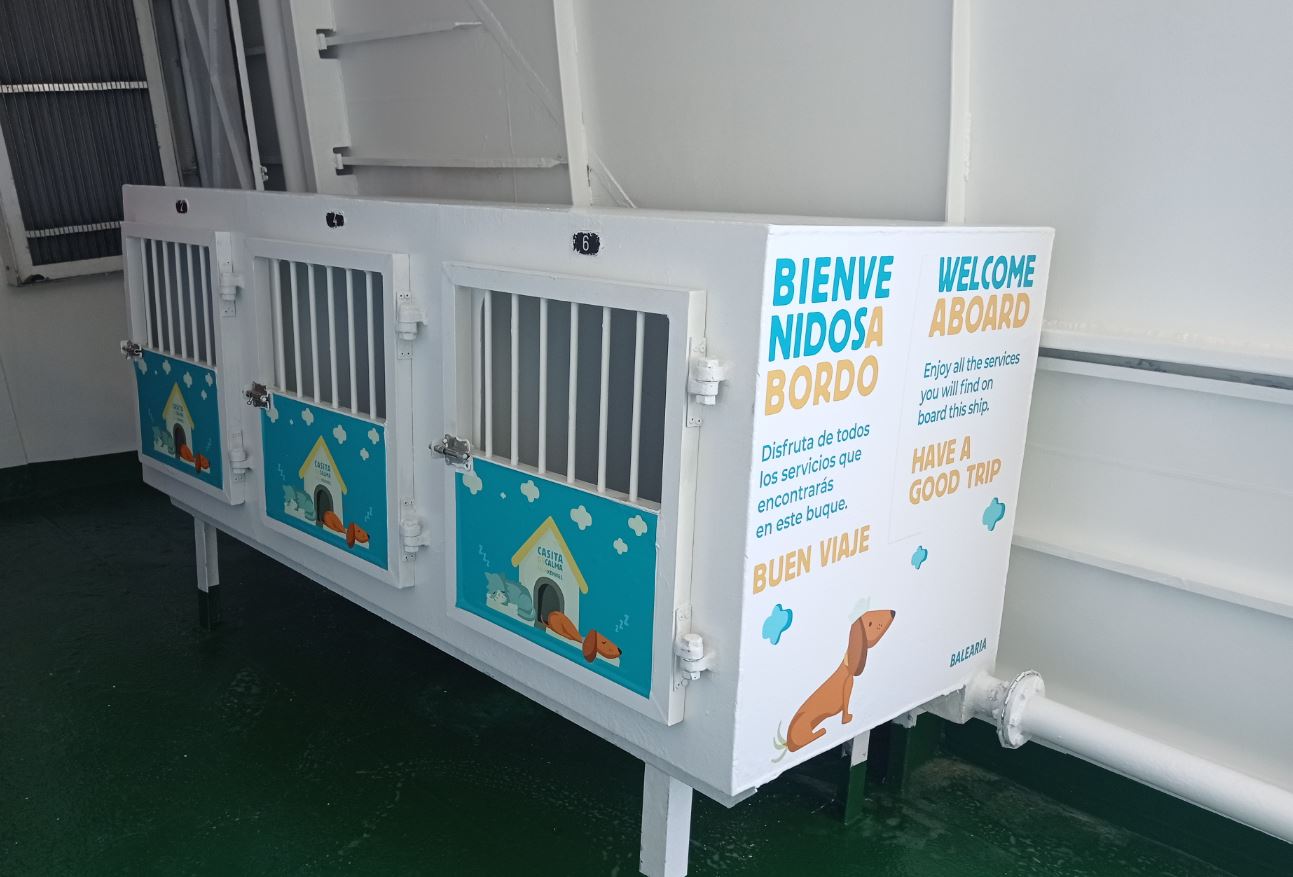 Calm houses
It has cages of different sizes located on one of the ship's decks.
Do you want to change the departure date?